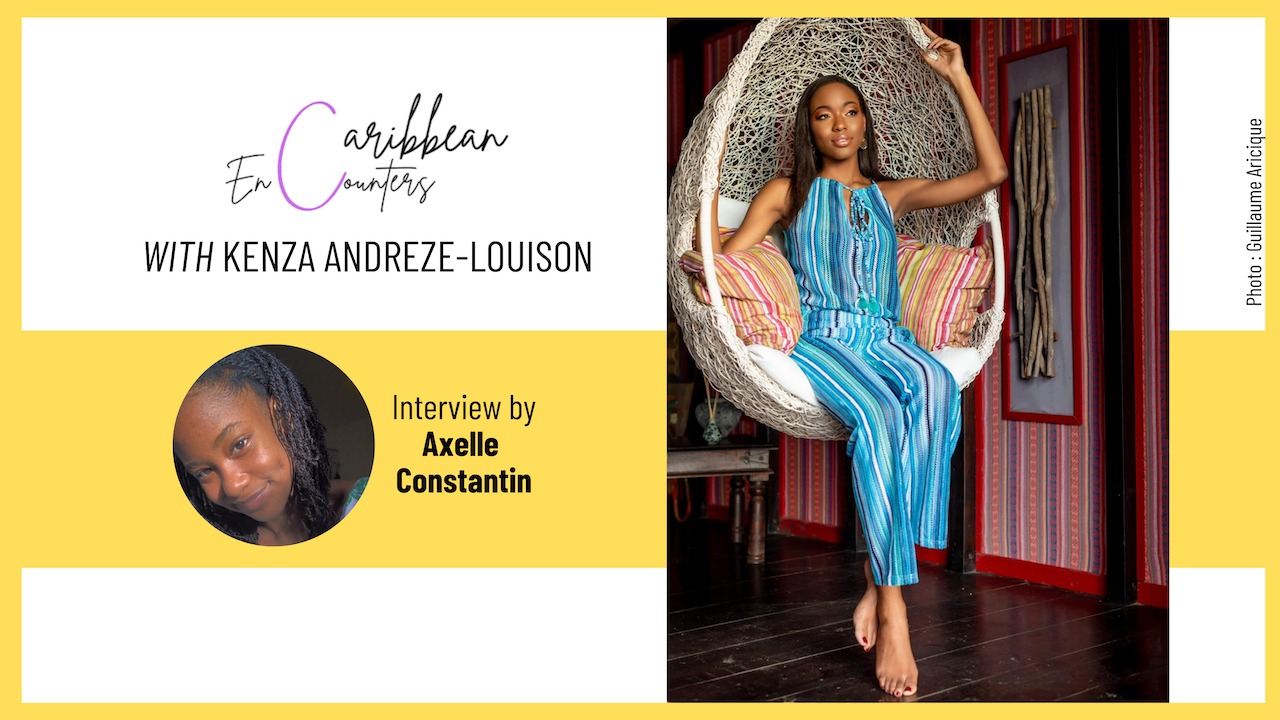 Caribbean Encounters: a great moment with Kenza Andrèze-Louison, Miss Guadeloupe 2020
After a day of studying, a moment of cocooning, self care, Kenza Andrèze-Louison granted me a moment to discuss and share her experiences as a young woman AND as Miss Guadeloupe! A real honor for me to receive her for this first interview of the year.
Miss Guadeloupe 2020: her journey as a miss
Almost two years have passed since her election. Some misses prepare themselves physically (thanks to sports or speech techniques in particular). The preparation was for Kenza much more psychological than physical. Since the age of 18 she consulted the contest modalities in order to know if she would participate or not. It was only when something clicked that she felt ready and able to expose herself to the world.
« The most important thing for me was to be mentally ready and to have something to say! At 18 years old, you have a lot of ideas, dreams, utopias, but nothing sufficiently steady to affirm that I was able to carry a message. But in 2020 my perspective on the world was much more firm and concrete. So I was able to get myself into this election. »
Kenza admits that once elected, the reign of a miss lasts a year but flies by very quickly. The first step before preparing for Miss France was to realize that she had won the Miss Guadeloupe contest, despite her confidence and determination! Once crowned, you have to realize that it's real!
Once crowned, you have to realize that it's real!
Preparing for Miss France was also psychological, although Kenza prepared herself physically (sports, catwalk classes…).
« I did not take speaking classes. »
At a very young age, Kenza was used to being in front of an audience in church for example (she was a « child preacher ») since around 8 to 9 years old… In middle school in the 4th and 3rd grade, she did theater. In high school, the music class allowed her to participate in the opera « The Magic Flute » with Carib Opera. During her higher education years in France, she participated in the Voix Des Outremers competition, a singing contest.
« The stage has always somewhat followed me in school or elsewhere. So I've always had this ease or lack of stress. You don't get stressed when you're going to walk or breathe! It's also a matter of practice and habits. »
She perfected her skills by watching miss elections, paying attention to the girls' dynamics and what they had in common so she could prepare herself. Above all, it was important to know what message she wanted to convey.
The former Miss Guadeloupe came in eighth place and won the catwalk prize!
« I was very happy even if it was not a prize I was aiming for, but there is always this little fear of falling on stage that all the misses have! And yet it seemed to be obvious, I was called « the panther » or « catwoman ».
After Miss France: Arilas Unity
After Miss France, Kenza focused on building her association Arilas Unity, which she already wanted to create before the Miss Guadeloupe journey. Coming from a modest social background, Kenza is aware that she has never been on an equal footing with people from a more privileged class.
« Depending on where you come from, your parents' salary, the neighborhood where you live, the color of your skin, there are many factors that will influence the life you will have, even if you can obviously rise above that."
By creating this association, she wanted to give an impulse to young people from neighborhoods similar to hers, and to bring them together so they can move forward. As a feminist, she particularly cares about the women concerned by these situations.
« I find that it's sometimes more complicated for women to move forward in society because there's a lot of pressure on us, and Arilas Unity aims to bring together women from all kinds of contexts and to reach out to young people when they need extra support, a helping hand, while putting aside the stigma. »
This association therefore aims to uplift young people from modest neighborhoods by making them aware that they can achieve their goals regardless of the difficulties of the environment from which they come. The fact of having been a miss gives her the opportunity to put forward this cause, and to give it more strength than if Kenza had not had such platform.
« I told myself that to use the title of Miss Guadeloupe for this project would be fantastic."
In everyday life she met other people from neighborhoods like hers, and by explaining her journey, these people told her that she would forget them after becoming a Miss.
« It's a pity that people have this superficial vision of the Miss Guadeloupe title, that they believe that the misses lie and they only make beautiful speeches for the election. It saddened me a little because my goal was to show young people from the same background as mine that we can do what we want."
She admits that in the Miss Guadeloupe contest, the working-class neighborhoods are only poorly represented, and the misses coming from these neighborhoods do not always put it forward. However, Kenza thinks that it is a beautiful thing to put forward because it shows that one does not need to have a high social status to be able to represent Guadeloupe and have the status of ambassador.
People were therefore surprised by the opening of her association, to see that her speech was not just empty words.
« It made me happy to see that I could have a positive impact on the people around me."
Miss Guadeloupe 2020: her persona
Soon to be 22 years old, Kenza Andrèze-Louison is studying geosciences at the University of the West Indies.
She is also a committed person. She likes to think that each person on Earth has a mission of their own, something to accomplish, the primary goal being to seek out what we are here for and to accomplish that mission. « What I like? Eating! I'm a foodie. » She also enjoys activities in nature, adrenaline rushes…
« I'm hyperactive, someone who has a lot of ideas, a lot of projects on the go. I like to move! »
In this regard, she plans to soon enter the world of NFTs, these digital tokens that can contain images, sounds, photos and other digital elements.
Her project is particularly aimed at digital works that celebrate Guadeloupe's nature and biodiversity. This collection will finance associations and research laboratories that will preserve this fragile biodiversity. Thanks to the visibility on the NFT collections that are currently released internationally, an international influence will be given to the species of our island, to finance their preservation and to sensitize the population to a pro-environmental behavior. This includes the purchase of cleaning products less aggressive, more natural, by consuming and buying eco-friendly …
« While doing research, I recently discovered the brand Fairphone which offers phones made entirely of recycled components which are not harmful to the environment. Bob Marley's family is committed to making wooden speakers and record players. These are great brands that you don't necessarily hear about and are not overly expensive. The objective of our NFT will be to combine technology and environment. Technology is part of our daily lives but that doesn't mean we should forget what's around us, what's natural."
It is through this interview that I discovered this side of Miss Guadeloupe 2020 that we do not always see: this woman committed to several causes, a true activist at her level, who gives herself the necessary means to act for the noble causes that are important to her.