About a couple of weeks ago, Mylène entrusted me with a new task: interviewing Caribbean people. For me, who has hardly ever done an interview, this exercise is an excellent way to exchange with a variety of personalities and to learn more about high-potential people who represent the Caribbean, both locally and abroad.
And as we know her, Mylène has not simply given me interviews. They had to be in English! Perfect to practise english in a pleasant way and to develop language skills. In other words, how to combine usefulness with enjoyment! So I decided to create a small series of « Caribbean Encounters » interviews with these different personalities. The aim is to discuss their professional careers but also to ask them how they feel about the current global health crisis. Of course, we mentioned the Caribbean.
The first person I had the opportunity to interview was Doris NOL. She currently lives in Saint Lucia, where she is a Digital Marketing Officer for the Organisation of Eastern Caribbean States (OECS). She is a multi-skilled woman who is expanding her activities in many areas such as translation and interpreting, for example. She is also the founder of Caribexpat.com, the first network of the French West Indian community to go out worldwide or coming back home. Through a handful of questions, she was able to reveal her vision of the Caribbean and tell me more about her daily professional activities.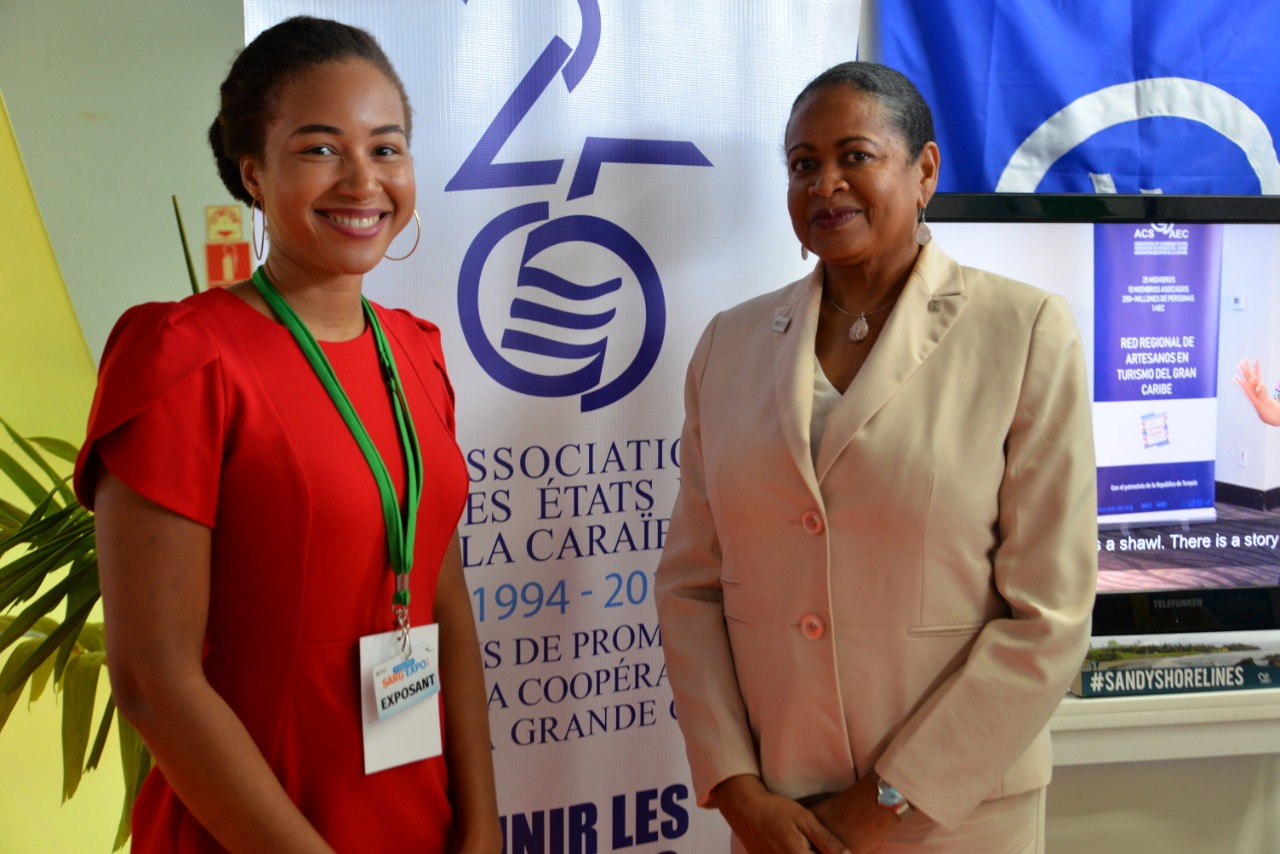 From Martinique to Saint Lucia
Martinique, her native island, belongs to her heart. Yet, to my great surprise, she confessed to me: « I love it even more when I don't live there! ». Indeed, for Doris, not living in Martinique is an opportunity to refocus on the essential. Despite the distance, she tries to keep in touch, especially through her professional relationships, which include people from Martinique, with whom she shares the same cultural links.
Doris has chosen to develop her network in the Caribbean. A choice which allows her to combine her different skills (such as the use of foreign languages) and to have a working environment which extends internationally, while remaining close to her homeland. Moreover, she manages to use all her abilities in her profession: Digital Marketing Officer at the OECS. She has to drive traffic to the OECS' website by optimizing it, to manage social media, and exchange with French-speaking co-workers on a certain number of matters.
« I don't really have a preference when it comes to using my different skills ».
In addition, she shared with me her opinion on the opportunities in the Caribbean. According to her, opportunities aren't limited. Thus, companies in the French territories of Guadeloupe and Martinique, but also in Saint Lucia and the other OECS territories, could benefit from them, particularly in terms of training, innovation, digital transformation and opening businesses, providing services that do not yet exist here. The challenge would be the market. « St Lucia for example has a very limited market (less than 200 000 people live here), you have to recalculate it based upon the product or service that you want to advertise and purchasing power and the target as well. But at the same time, it is also an opportunity especially for the service providers because some of them, depending on the service that they provide, could work from home (which is very trendy). »
As for her, as a digital marketing consultant for other companies alongside her full-time work at OECS, she is very comfortable with the idea. It is therefore possible to overcome distance and language barriers.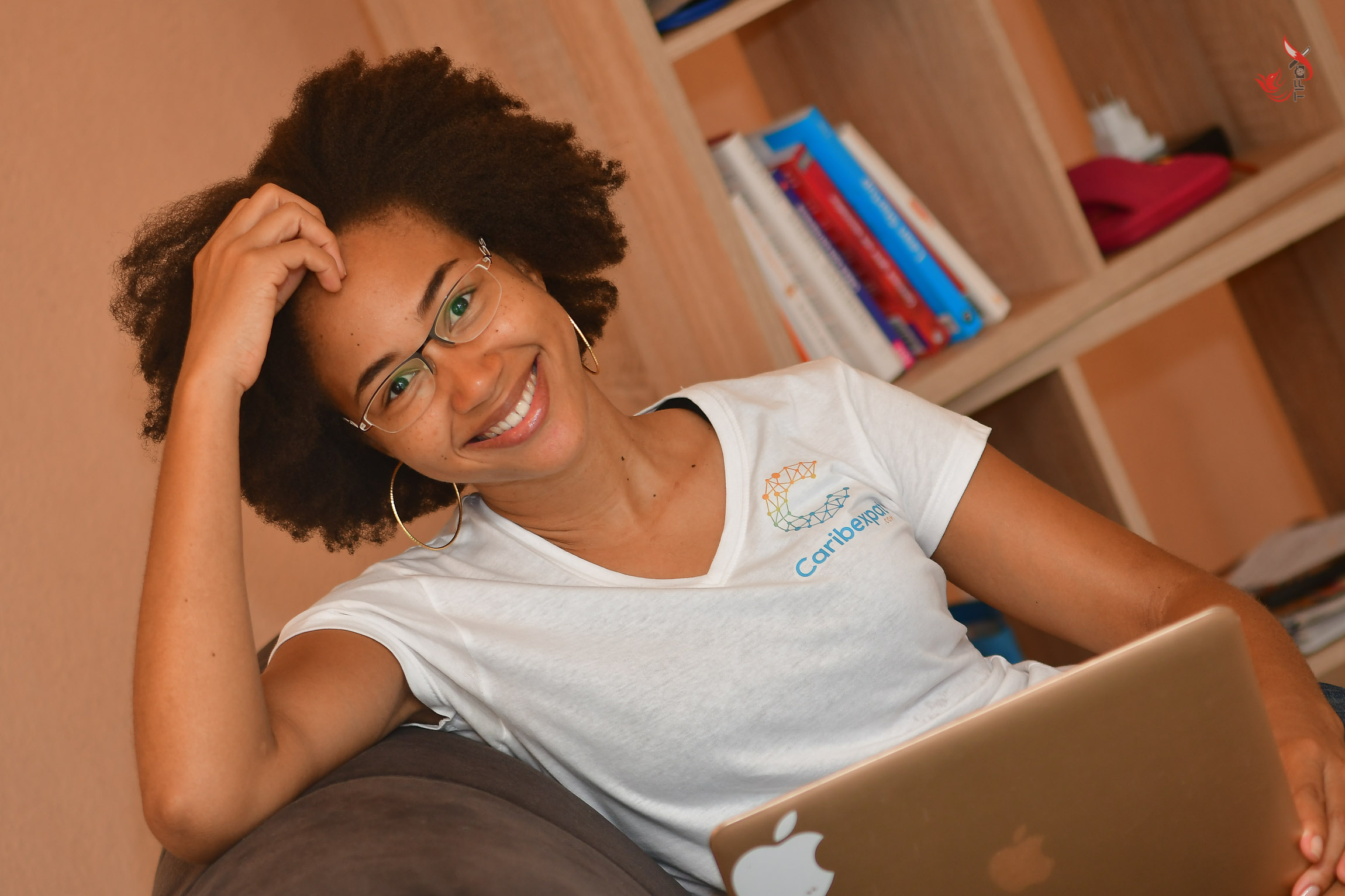 About CaribExpat.com
I was curious to know more about her website CaribExpat.com which had caught my attention before. Created in 2013, it is in fact the 1st community for people from the French Caribbean territories (Guadeloupe, Martinique, Saint-Martin and extending to French Guyana). Within the community, the aim is to facilitate career development or basic projects and other activities, for anybody from anywhere via the cultural link, the strongest according to Doris.
« I really think that no matter where you go, or in which area you choose to work and so on, a huge part of your identity is built through culture. »
The cultural bond is therefore a way of feeling close to others, even far from home. She also experienced it when she came to Saint Lucia. Although the island is near her homeland, Doris was glad to find people from Martinique, whether they were there for the weekend or actually living here, to give her advice and help her. « It makes us stronger. When you're at home you don't really feel the need to connect with others, but when you're not at home the opposite happens. You need to connect with people who look like you, with the same cultural references. It helps a lot to strengthen solidarity, more than anything else.  »
Everyone can visit CaribExpat.com. It's free, fast and easy. In a few seconds you can create an account and discover people from other countries, if you want to travel and settle somewhere. You can also have access to everything that is posted online by the community.
« We have members in 90 countries and more than 200 cities around the world. »
Here you can find articles, interviews, events, anything that can help you develop your project. The service is free for the public, but Caribexpat.com works with public and private partners offering products/services related to travel and international professional mobility, which is the main resource of the site to keep it online in a sustainable way. The little extra? « 100 addresses to go abroad » THE guide with country tips available for free download.
Dealing with COVID
One of the main challenges of the global health crisis is returning home. As an adept traveller, Doris was used to being able to return home at least twice a year. She has not always been able to afford it, especially when she worked in Brazil or Paris. Thanks to her current job, she is able to work from home.
Still, the main challenge is : not being able to see her relatives. However, COVID-19 has enabled her to realise that working 100% remotely is possible. « Eventually, I plan on becoming a full-time digital marketing consultant and setting up my own business in this sector, I intend to extend my client portfolio to various countries, so I'm trying to remove the physical constraint of being in a particular workplace  »
The health crisis made her refocus on the essentials, especially during lockdown earlier this year. It is reflected in everyday habits: « Going to the supermarket and actually finding food (at one point this was not the case when we were on lockdown, when everything was closed and many people were not able to prepare for this decision taken by the government overnight), taking care of ourselves, being safe and keeping in touch with our loved ones. It reminds us of what is most important in life. »
Version française : cliquer 
Photo in the cover : Doris NOL au siège de l'OECS à Castries, Sainte Lucie – Crédit photo : Bruno Tifox.